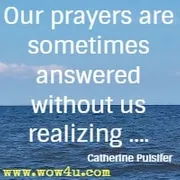 Our prayers are sometimes answered without us realizing or, in ways that we did not ask for but always remember God's plan is better than ours. Catherine Pulsifer
This is indeed true!
I always prayed to God but I can't get an answer from Him right away. It took how many years before I can get an answer, but I am still thankful to God because He grant my wish and payers.