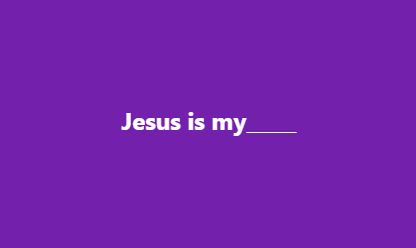 Savior, Shepherd and Friend
Jesus is my guide because I believe that in everything I did in my life, He was always by my side to guide and protect me.
Redeemer Jesus Christ who has redeemed humanity through his sacrificial death on the cross, bringing hope and restoration to those who believe in him.
Life and Saviour, he is my everything.
Everything that matters in my life
Lord and Saviour, friend, protector, brother.
Saviour, brother, my everything

Creator and Great Physician.
Way, truth and life…

…Lord and Savior… my Alpha and Omega
Lord and Savior, redeemer
Love of my spirit . He has gone before me.
Lord and Saviour. I love the LORD with all my heart, with all my mind and with all my soul.
Lord and savior! And my biggest guide!
Everything! Without Him I have nothing!